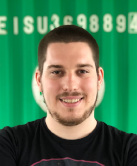 M.Sc. Sebastian Murgul
Klangio GmbH

Alter Schlachthof 39

76131 Karlsruhe
Currently Available Theses
Please visit the German homepage for up-to-date information.
Publications
2022
Estimation of Music Recording Quality to Predict Automatic Music Transcription Performance
Schwabe, M.; Hoffmann, T.; Murgul, S.; Heizmann, M.
2022. Smart Multimedia – Third International Conference, ICSM 2022, Marseille, France, August 25–27, 2022, Revised Selected Papers. Ed.: S. Berretti, 322–337, Springer International Publishing.
doi:10.1007/978-3-031-22061-6_24